Average Auto Insurance Rates Tennessee
The best way to get better than average auto insurance rates Tennessee is to call AmeriAgency Insurance.
Ameriagency is like Kayak for insurance.  AmeriAgency compares prices for you.  This is truly a win-win.
Tennessee may be the Volunteer State, but you shouldn't voluntarily pay more than you need to for car insurance.
This page will show you which types of coverage are legally required in Tennessee, provide information about the cost of driving including average rates, and share some insights about insurance risk to help you protect yourself and your family.
Average Tennessee Car Insurance Rates
How much is car insurance in Tennessee? The average auto insurance rates Tennessee is $737.59 a year. The national average price is $889.01.
Prices may vary depending on your limits, urban conditions, coverage, and zip code.
Tennessee Average Annual Car Insurance Rates
Coverage
Rates
Liability
$413.91
Collision
$309.07
Comprehensive
$148.45
Total Annual Cost
$737.59
Price Per Month
$61.460
Source: Facts + Statistics: Auto insurance
The graph below shows the change in average Tennessee auto insurance rates from 2011 to 2015, the most recent year the data is available. According to the III, Tennessee car insurance rates increased from $649 in 2011 to $737 in 2015, a jump of $87 dollars, or 13.48 percent.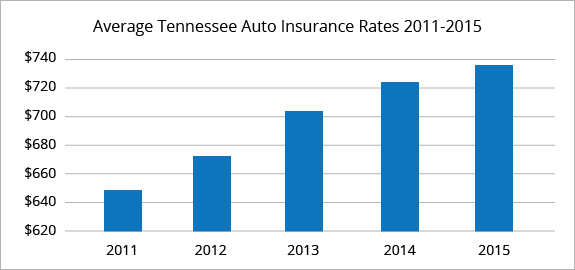 Finding an auto insurance provider in Tennessee that is reliable is important these days. But how do you determine which insurer is right for you?
We'll get you all the info you need, and connect you to an AmeriAgency Advantage Agent, so you can find a policy that you, your vehicle, and your wallet will love.
Call AmeriAgency Insurance now at 888-851-5572 to Start saving up to 27%.