Home Insurance Quotes in Nashville TN
AmeriAgency is the Best for Comparing Home Insurance Quotes in Nashville TN
AmeriAgency is like Kayak for insurance.  Ameriagency compares rates for you.
Tennessee is the home of Jack Daniels, the Grand Ole Opry, and American rock 'n' roll, rockabilly, and blues. Artists such as Elvis Presley, Johnny Cash, and Jerry Lee Lewis all recorded in Memphis. The Volunteer State is also home to the nation's most visited national park, Great Smoky Mountains National Park. Tennessee's climate poses a number of homeowners insurance risks, including tornadoes.
Average Tennessee Homeowners Insurance Rates
How much is home insurance in Tennessee? Tennessee's average homeowners insurance premiums are just about equal to the national average. The average cost of homeowners insurance in the state of Tennessee is $1,149. That's almost exactly the same as the national average of $1,173. There are 20 states with higher average home insurance rates than Tennessee.
Tennessee Average Annual Homeowners Insurance Rates
2013
2014
2015
Tennessee Annual Average
$1,090
$1,139
$1,149
Tennessee Price Per Month
$91
$95
$96
US Annual Average
$1,096
$1,132
$1,173
US Cost Per Month
$91
$94
$98
National Rank
19
19
21
Source: https://www.iii.org/fact-statistic/facts-statistics-homeowners-and-renters-insurance
The graph below shows the change in average home insurance quotes in Nashville TN from 2011 to 2015, the most recent year the data is available. According to the III, Tennessee homeowners insurance rates increased from $915 in 2011 to $1,149 in 2015, a jump of $234 dollars, or 25.57 percent.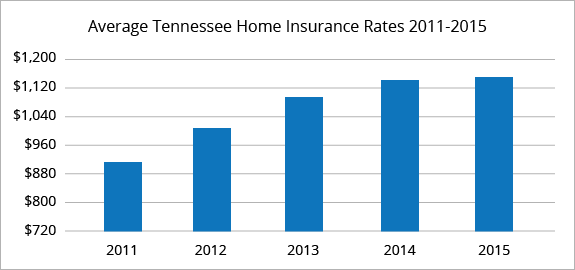 Choosing a homeowners insurance company in Tennessee should be easier. Actually, it's already easy. The key to finding the best rates is to get a home insurance quotes comparison in Tennessee from multiple companies.